The Michelin Man comes in different guises……….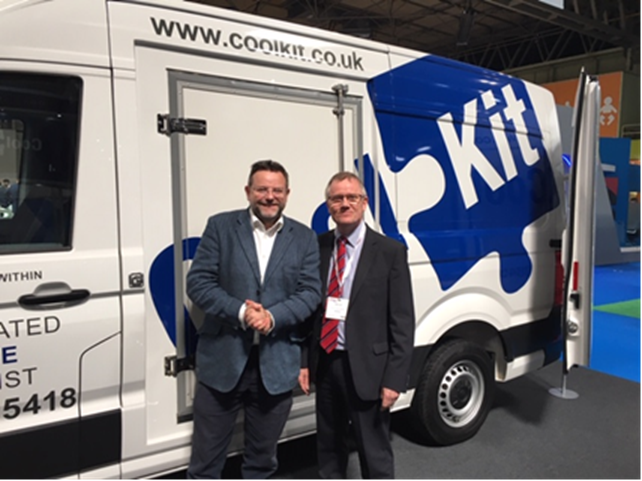 Rupert Gatty, Managing Director, Coolkit Ltd and Mike Cole, Michelin Development Ltd  https://www.coolkit.co.uk/
Public Affairs are a very varied and interesting role especially when you add in the Michelin Development angle for good measure.
I recently attended the CV (Commercial Vehicle) show at the NEC, to catch up with what is going on in the industry, new initiatives, environmental developments etc etc. However whilst quickly scanning the final few stands in the small hall I noticed a name from the past, not a well know name, not a big name but a name which meant something to me and Michelin Development from years ago.
Established in 2005 by 2009 Coolkit had grown to £1m turnover and employed 11 people. It's owner Rupert Gatty was looking for financial support to introduce ISO14001 and CAD/CAM software to improve its flexibility in manufacturing insulating kits for converting standard vans into refrigerated vehicles. Michelin helped support that plan with a modest loan in return for 6 jobs over 3 years.
Fast forward to today and the stand at the CV show was impressive with several vans of different sizes showing off their range of products with their distinctive Coolkit logo. The MD finished talking to a client then turned to me and said the 'Michelin man'. He was with his head of sales and marketing and told him of our meetings and the financial support we had given them back in the day. He went on to say that the loan had been 'significant' for his business at the time and had helped them move forward quickly to the next level.
Today the company employs 90 people with a turnover approaching £15m and is now the UK leading manufacturer of refrigerated panel vans. Utilising innovative materials and advanced techniques, they have been awarded Refrigerated Panel Van of the Year 2017 & 2018 and Best Van Innovation 2018.
A surprising encounter, but a good one, and a reminder, if I needed it, of the work MD does and the positive effect it can have.
And it looks like some of our CSR has rubbed off on them: